Stil in Berlin is a blog that takes photographs of fashionable people on the streets of Berlin. These photographers take shots of people who stand out and represent the urban, multicultural fashion in their city. "Fashion can describe what a city is," they state on their blog. Berlin is a beautiful, cosmopolitan city full of people from all walks of life. By documenting their personal style, this blog aims to tell their story.
Created in July 2005, Hel Looks is one of the oldest style blogs featuring street fashion from Helsinki, the capital of Finland. Blog contributors Liisa Jokinen and Sampo Karjalainen have a passion for fashion photography. Most of the people photographed on this blog are not decked out in expensive designer items but instead, their outfits stand out because of the way they have remixed certain pieces from their wardrobe together to achieve a polished, sophisticated look. The photographers tribute this project to Fruits and Street, which are magazines considered to be the pioneers of street fashion photography.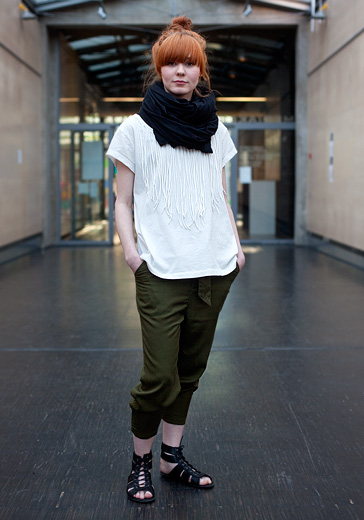 This Toronto-based street style blog was started by my friend Lauren, who is currently in her last year at Ryerson University studying Fashion Communication. What started out as a school project soon became a hobby. She walks around the neighbourhood taking photographs of people who have an interesting look, often questioning them on what inspires their personal style.
This fashion street blogger is spending her summertime wandering around the streets and parks of New York City, taking photos of people who are dressed in stylish, big hats, exuberant colours, and vintage patterns, adorned with obnoxiously sized buttons. Her subjects are mostly young men and women who are students on a budget who usually go thrift shopping for stylish wardrobe bargains.

This style blog documents Amsterdam street style. This photographer duo (Felicia Nitzsche and Elina Tozzi) simply walk around and takes pictures of people's outfits that strike their fancy. Most of the subjects are decked out in loud prints, fancy hair accessories, high heels, big sunglasses, turbans and wacky shoes! Dam Style is all about creative personal style, which reminds me of something Coco Chanel once said, "Fashion passes, style remains."

This is a famous Danish blog that successfully portrays Copenhagen as a stylish city. His subjects range from students to models at Fashion Week to construction workers on the street! This photographer's aim is to encapsulate Copenhagen's inimitable style: refined, polished and flirty.
Altamiranyc is based in New York City.  This photographer often runs across models such as Joan Smalls of Elite New York. He has also had the lucky fortune to travel extensively across Europe, photographing the likes of Alexandra Golovanoff (French Journalist), Carin Hellman (Head Beauty Editor of Swedish ELLE), Agnes Braunerhielm (Head Fashion Editor of Rodeo Magazine) and supermodel Rosie, who has been on the cover of Vogue Australia, Vogue Mexico, and walked the DKNY F/W 2009. His photographs can also be found in the recent June/July issue of Teen Vogue. Most of his subjects are models and people who work in the fashion industry.
Garance Doré is famous for its exquisite photography of its subjects. As you can see, these women are dressed in simple attire yet look absolutely beautiful. This blog stands out from the rest because of the photographer's tendency to take gorgeous close-ups of the subjects. Notice how the second woman looks blissfully unaware that her photograph is being taken? That's because this photographer likes capturing their look in its natural state, instead making them stand around looking stiff and making artificial poses.
This photographer used to go to a lot of parties, take random shots of people, put them up on his blog and distribute the link all over the internet. Pretty soon, his photographs started getting popular! Face Hunter is now considered most famous for photographing his subjects in crazy, wacky poses against interesting backgrounds. In June, his travel itinerary consists of Copenhagen, Antwerp, London, Munich, Moscow, Paris, Stockholm AND Berlin. Some people might even say he has the best job in the world: travelling, socializing and making friends everywhere he goes!

Scott Schuman is a classic case of someone who wanted to combine their love of fashion and photography. He began his style blog simply to share photographs of people that he saw on the streets of New York daily. Along with the shot, Scott includes a short blurb on the person and a brief description on their outfit. The "Sartorialist philosophy" is to find inspiration in what the subject is wearing, be it designer wear, vintage, or even a work uniform!
One Comment to